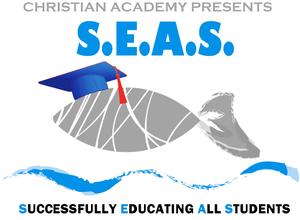 S.E.A.S. ANNUAL FUNDRAISER
Successfully Educating All-CA Students
S.E.A.S. celebrates students, education, family and community while helping raise funds for the tuition financial assistance program & other school programs such as PTF, Booster Club, Junior/Senior Mission Trip and more.
Christian Academy hosts two major S.E.A.S. events a year. A Dinner and Auction in the fall and a family fun festival in the spring.
---
---
2018 Sponsors:
Greg Sisson Re/Max First Choice
Robert N Richardson, Jr. Attorney at Law
The Bargain Warehouse
The Original Benjamin's Calabash Seafood
Swift Services Heating and Cooling
SAU Insurance, Chris Johnson
Regal Wealth Advisors/McCarthy Family
Clark & Piper Butler
Thirty One Gifts, Martine Williams
Hub International Southeast
Dr. Jack Green Orthodontics
Joe and Suzanne Johnson & Billy and Celeste Jackson
2nd Avenue Pier
Ortho SC
Durso Electric
Ocean Lakes Campground
Shoreline Flooring
Michal Kovac
Gene Ho Photography
James and Donna DiGeronimo
Crossiants Bakery and Bistro
The Longoria Family
Plantation Priniting
Mr. Tracy and Dr. Deborah Conner
B & R Contractors, INC.
Thank you so much to all of our 2018 Sponsors! We are so thankful for contributions to Christian Academy!