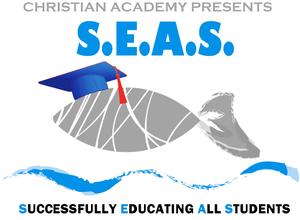 S.E.A.S. ANNUAL FUNDRAISER
Successfully Educating All-CA Students
S.E.A.S. celebrates students, education, family and community while helping raise funds for the tuition financial assistance program & other school programs such as PTF, Booster Club, Junior/Senior Mission Trip and more.
Christian Academy hosts two major S.E.A.S. events a year. A Dinner and Auction in the fall and a family fun festival in the spring.
---
---
2020 Sponsors:
Greg Sisson Re/Max First Choice
Anderson Brothers Bank
The Original Benjamin's Calabash Seafood
Fortune Asian Bistro
21 Main, Events at North Beach
Swift Services Heating and Cooling
Regal Wealth Advisors/McCarthy Family
Ortho SC
JTE Real Estate
Thirty One Gifts, Martine Williams
Hub International Southeast
Scott and Melissa Montgomery
Revolution Mortgage
Joe and Suzanne Johnson & Billy and Celeste Jackson
Chick-fil-A Carolina Forest
Beach Ford
Durso Electric
Ocean Lakes Campground
B and R Painting Contractors
Shoreline Flooring
Lakewood Campground
Sturzenbecker Construction
Signature Wealth Strategies
Huggins Insurance Agency
DocuSystems
Harrleson Group
Sandy Hicks, Law Firm
Sparks Toyota
Dagwood's Deli
Jack. L. Green Orthodontics
King Fish Properties
State Farm
South Atlantic Bank
Maaco/Meineke
Sasser Medical Associates
John DiGerenamo Family
Franklin Smith Eye Associates
South State Bank
Scott and Stringfellow
Plye Financial Services
Vigiliant Restoration
Thank you so much to all of our 2020 Sponsors! We are so thankful for contributions to Christian Academy!